Our carpets and rugs form a large part of the interior of our home. Other than that, we are constantly treading on them, spilling food and drinks on them, and so on. Being under our feet all the time makes them highly susceptible to stains, soiling, and gathering dirt or even pet hairs! Maintaining our carpets hygiene is very important. We have to look at them for a large portion of the day, and stained and grimy carpets can be quite depressing. Not only that, but rugs with deep-ingrained dirt can cause an unhealthy atmosphere for you to live in. That's why we've put together this quick guide on basic care for carpets and how to clean your carpet at home.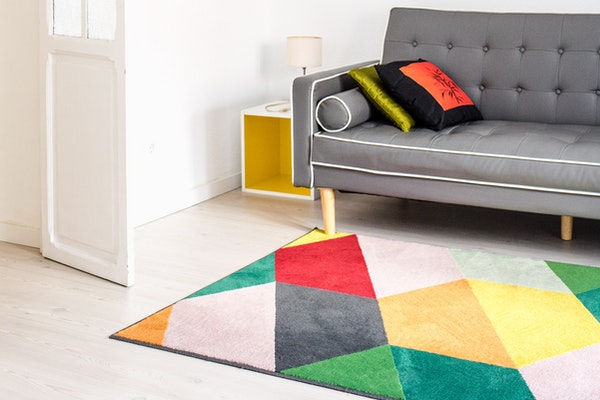 The Basic Carpet Types:
Before we get going, you need to know about the basic carpet types. In the UK, there a two main types of carpets – tufted and woven. The tufted carpets generally tend to last longer than the 1.. Though the woven carpets are much prettier and it's worth the more careful care it needs. Other than those two types, there are 4 basic fibre types in the UK. Here they are:
Nylon;
Olefin;
Acrylic;
Wool.
Carry on reading our article to find out how to clean your carpets at home, no matter the fibre type!
How to Clean your Carpets at Home?
1. How to Clean Nylon Carpets at Home?
When it comes to our nylon carpets, it's best to catch spills on time. But it's not always possible, so here are our quick steps to cleaning nylon carpets:
Vacuum First!
Apply warm water (with a towel) to your carpet until lightly soaked.
Blot the area with a clean white cloth until the area is clean.
This step is in case the dirt is more stubborn – mix a cup of warm water with a ¼ tsp. of dish liquid and apply to
the area with a white cloth and leave for 5 minutes. Then using clean water and a cloth, dab the area until
there's no soapy bubbles left.
Leave to dry.
2. How to Clean your Olefin Carpet at Home?
Hoover first! Never skip this step with olefin carpets!
Use a carpet brush or a sponge and carpet shampoo for olefin carpets.
Never steam clean with olefin carpets! Steam cleaning can cause an unseemly discolouration to the fibres.
Treat oily stains with a dry compound. You can use a shop-bought solution or a DIY soda bicarb mix.
3. How to Clean your Acrylic Carpet at Home?
For acrylic carpets, steam cleaning is your best option. And of course, always vacuum first!
Smooth out dents and grooves caused by furniture with a hairdryer.
After steam cleaning leave overnight to dry before walking on it.
4. How to Clean your Wool Carpet at Home?
When cleaning wool carpets, it's best to choose a nice sunny day for it.
If possible, lift up and shake out before starting the process. If not, vacuum thoroughly.
Either use a wool-specific detergent, or a DIY wool-cleaning solution.
Mix either your DIY solution or wool specific detergent into a bucket with cool water. Prepare another bucket with clean cool water.
Using a big sponge soaked in your solution, start sponging from the corners inwards. Make sure the sponge is nice and soapy. Rinse the sponge frequently.
Now using a clean sponge, soaked in clean water, start rinsing.
After rinsing with the clean water, use towels to soak up as much water as you can.
Leave to dry in the sun! If dyed, leave it upside down so as not to fade and lose its colour.
If you need professional carpet steam cleaning in London and are worried about the price, check out our information on the subject: How Much Does Professional Carpet Cleaning Cost?