You might be under the impression that as long as your windows are locked tight, your home is guarded against air pollution. Unfortunately, that is rarely the case. From aerosols to pet litter, there are countless sources of contaminants that can reduce the air quality. These can cause a range of health issues, including respiratory diseases and eye irritation. To filter these particles and reduce health risks, you can use air-purifying plants. Which to use and where? Let's find out with the help of our Chelsea end of tenancy cleaning team!
Top 10 Air-Purifying Plants
Plants take in carbon dioxide and release oxygen. That much we know. However, some species go above and beyond by filtering out harmful volatile compounds. To make the most out of those air-purifying plants, you need to know each one's limits and check if it's compatible with your home conditions.
Here are 10 of the most common houseplants that can help with air quality:
Aloe Vera
Many people grow aloe vera for its cosmetic applications. Yet, Aloe Vera also turns out to be an excellent filter of volatile organic compounds (VOCs) like benzene, xylene, and formaldehyde. Benzene and xylene are often found in paint, plastics, and rubber. Meanwhile, formaldehyde is often released from heat-insulating boards, hairsprays, and varnish. With that in mind, it could be a good idea to place the plant somewhere around newly painted furniture or places with dense insulation.
Keep in mind that removing those contaminants sometimes does more than just reduce health concerns.
Take, for instance, how xylene is also a highly flammable compound. It's also responsible for irritation in the mucosal linings, dizziness, and loss of muscle coordination. Removing it from the air reduces the fire risk as well as the toxicity. Since it's a succulent plant, aloe vera isn't demanding at all when it comes to watering needs. You'll only need to keep the top inch moist. The plant still needs transplanting when it outgrows its pot, but this only happens every two years or so. Regularly, you'll only need to water and dust the leaves.
Areca Palm
The Areca Palm (botanically called the Chrysalidocarpus lutescens) is a big and bold plant. Its arching dense feather-like foliage captures attention in any setting. To preserve the shine and lustre of the foliage, avoid leaving it in direct sunlight since it might turn the leaf tips yellow and brittle.
However, maintenance serves more than just a cosmetic purpose. A well-cared-for Areca tree can filter VOCs like xylene and toluene from the room for 10 long years! Being so large means higher air purification power. Ideally, you want a pot of 8-10 inches per 100 square feet of floor space. So, even the smallest Areca Palm tree can go a long way in terms of air purification. On the other hand, it can be a bit much for smaller rooms and narrow spaces. If you want something with similar air purification ratings, you might want to consider the Lady Palm.
Broadleaf Lady Palm
Some people call it the Broadleaf Lady Palm, but botanically, it's known as the Rhapis excelsa from the family Arecaceae. The Lady Palm can filter ammonia, dibutyl phthalate, and formaldehyde from the air. Thus, reducing their toxic impact from mild irritation to reduced respiratory function.
All in all, you can say that it has similar air purification powers to the Areca Palm, but it's a bit shorter, making it suitable for smaller spaces. Maintenance-wise, you don't have to put much effort into adjusting this plant's light exposure. It handles anywhere from direct sunlight outdoors to a full shade in an office corner. However, the more sunlight that the Broadleaf Lady Palm gets, the more its foliage gains a yellowish tinge. While the Rhapis excelsa can grow both indoors and outdoors, it's more preferably kept as a strictly indoor plant. That's because its roots can be a bit invasive.
On the plus side, the Lady Palm has no toxic side effects. So, you can rest your mind leaving your puppy home alone with the pot!
Calathea
Calatheas are very common indoor plants for three main reasons. The first is how unique its foliage looks, making it suitable for ornamental reasons. The second reason is how it thrives in partial shade and high humidity, making it perfect for a bathroom. However, the final and most important reason is the plant's ability to filter pollutants and improve air quality. Keep in mind that Calatheas are also called the praying plants, thanks to their nyctinasty! The beauty of getting a Calathea is that possibilities are open with more than 60 different varieties. Some of them are more vibrant than others, but their foliage is always very distinct.
For instance, the Calathea makoyana or the Peacock Plant has a very eye-catching foliage pattern of small leaves within a larger oblong leaf. Meanwhile, the zebrina variety was found to be one of the fastest plants in filtering formaldehyde from the polluted indoor air.  Yet, the Calathea Warscewiczii (Jungle Velvet) remains one of the most common options. Its bi-toned foliage lines with royal purple undersides. Overall, it's a plant that fits all interior styles. Maintenance-wise, Calatheas are tropical by nature. This means that they require high humidity, misting, warm temperatures, and partial shade. Easy to grow, but so rewarding!
Chrysanthemum
Chrysanthemums (also just referred to as mums) are perennial indoor plants. Much like other air purifiers on the list, they can filter formaldehyde and benzene. What's unique to the Chrysanthemum plants is that they are capable of filtering ammonia from the air. The only downside to these brilliantly colored plants is that it only blooms for about four to six weeks during the spring. Everything else about this flowering plant is low-maintenance. Mainly, they just need the soil to be moist at all times.
So, aside from watering and adjusting the light, you might only need to fertilize seasonally. Other than that, you don't have to do much for the Chrysanthemums. Just be a bit careful if you have pets since the plant parts can be toxic to both cats and dogs. That's because they contain pyrethrins, the main component of many insecticides and flea remedies. If you suspect that your pet has ingested the flowers, take them to a vet immediately. They might show signs of vomiting, diarrhea, skin rash, loss of coordination, and increased salivation. Oddly enough, the same plant can be safe for consumption if it's used to make herbal tea from dried blossoms. In fact, it tastes quite a bit like chamomile!
Marginata Dragon Tree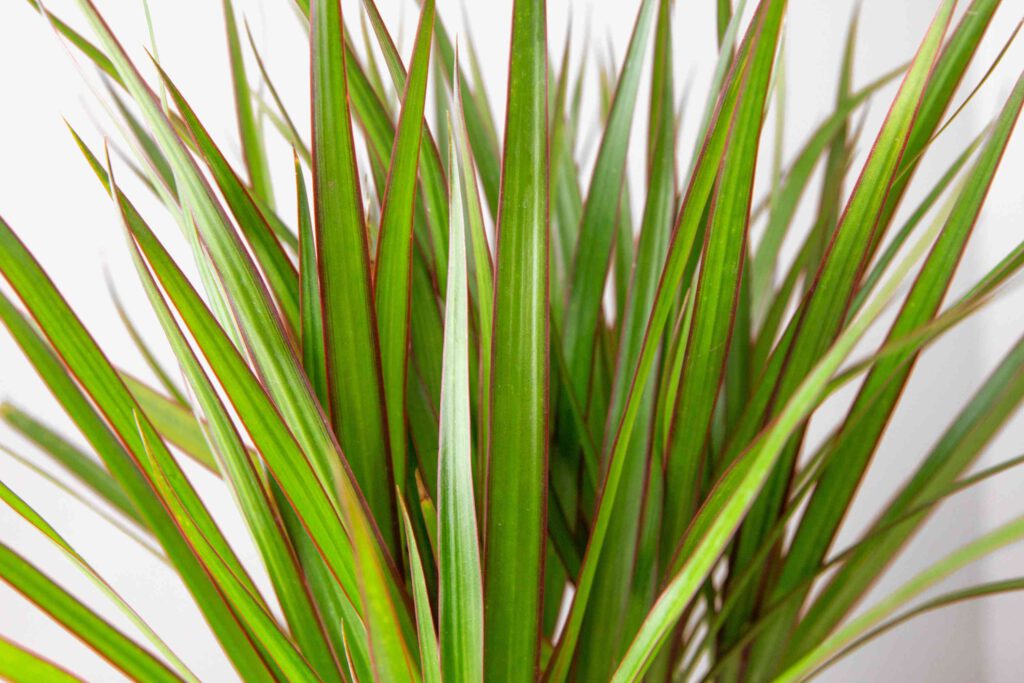 The Marginata is a broadleaf evergreen plant from the family Dracaena that is no stranger to office spaces and living rooms. The Dragon Tree can be an exceptionally good filter for benzene, formaldehyde, and trichloroethylene indoor contamination. It might be a good idea to go for Dracaena if you use hairspray often since it can be a source of formaldehyde contamination. However, it's important to note that this is an entirely different plant than the endangered Nubian tree with the same name.
The Marginata plant that we're talking about has sword-like foliage with red-edged tips, hence the name. When you're picking a pot for your air-purifying Marginata, make sure you pick a subtle pot. This way, it won't compete with the strong silhouette of the foliage. You want those brilliant leaves to pop!
English Ivy
The English Ivy or the Hedera helix is an evergreen perennial and woody vine that's suitable for both indoor and outdoor growth. According to a study by NASA, the English Ivy can remove 89.8% of the benzene and 10.9% of the trichloroethylene in the air over 24 hours. As a plus, it can also help reduce the risk of mould infestations. That's why it might be a good option for people with allergies, asthma, and compromised immunities. It's also suitable for homes with a pet little box since it reduces fecal matter particles circulating in the air.
You can easily enjoy all these benefits by following a minimal care guide for the woody vine and keeping it thriving for as long as possible. For one, the English Ivy prefers high humidity and low water content in the soil. It might sound a bit paradoxical, but it's easy to accomplish with a drainage pot with pebbles and a saucer. You can also keep it under direct light. This way, you dry the soil while giving the plant its needs of light exposure all in one step. Just make sure the sun's not too hot. Ideally, you need to keep the temperature under 21°C.
Flamingo Lily
If you're looking for a pretty flowering indoor plant that doubles as an air purifier, the Lace leaf Flamingo Lily might be the one for you. Some nurseries call it the Painter's Palette because of how vibrant and colourful it is! It's also sometimes referred to as the Tail Flower because of its protruding spadix that looks a lot like an animal tail or a corn cob. In terms of purification, the plant is capable of reducing the amount of formaldehyde, ammonia, toluene, and xylene. To care for an air purifier like the Flamingo Lily, you need to provide a high level of humidity to mimic the plant's tropical origins. You'll also need to keep it protected from direct sunlight.
That's why it makes a perfect companion in a kitchen or a bathroom, where it'll make use of all the extra shade and humidity. If you want to keep in an office with a bit of dry air, you might need to use a room humidifier or just spritz it manually with water a couple of times every day. Just be aware of the poisonous side effects of the Anthurium plants. It can cause buccal irritation. So, keep it out of reach from pets and small children.
Golden Pothos
Pothos are vine-like plants with glossy heart-shaped leaves patterned with two tones of green. This asymmetrical look makes them the perfect head-turner for your home or office. The Epipremnum aureum or the Golden Pothos filters formaldehyde, toluene, benzene, and xylene. The vine can remove 73.2% of benzene, which isn't as impressive as the English Ivy, but it's still worthwhile nevertheless. Much like the Calathea, the Pothos doesn't need much water or direct light. You can keep it going on around one watering every week or two, depending on your climate zone. After all, it's hardy in zones 10-12.
Just be careful. Extremely low light exposure can turn the foliage to a solid green instead of the bi-toned asymmetrical pattern. On a fun note, the Golden Pothos is also called the Devil's Ivy. The name isn't as ominous as it sounds, though. It's just a nod to how dark-loving and resilient this plant is. So, even if you don't have green thumbs, you can still enjoy Pothos as ornamental air purifiers!
Spider Plant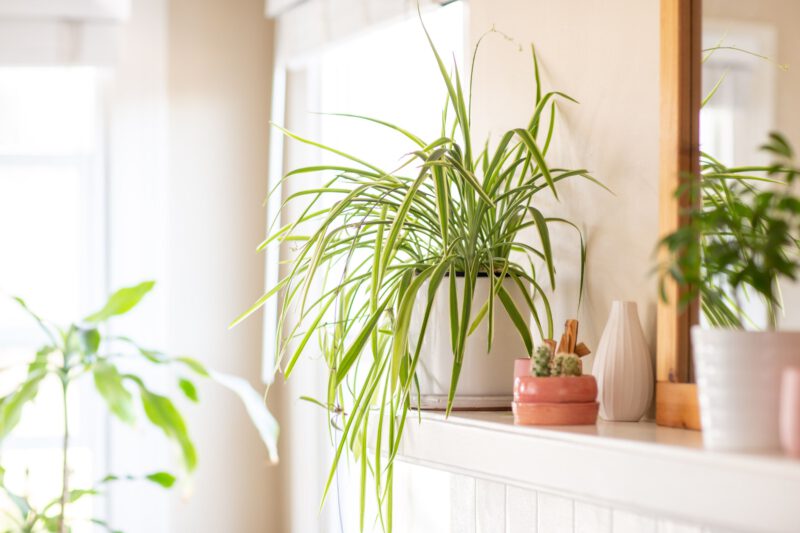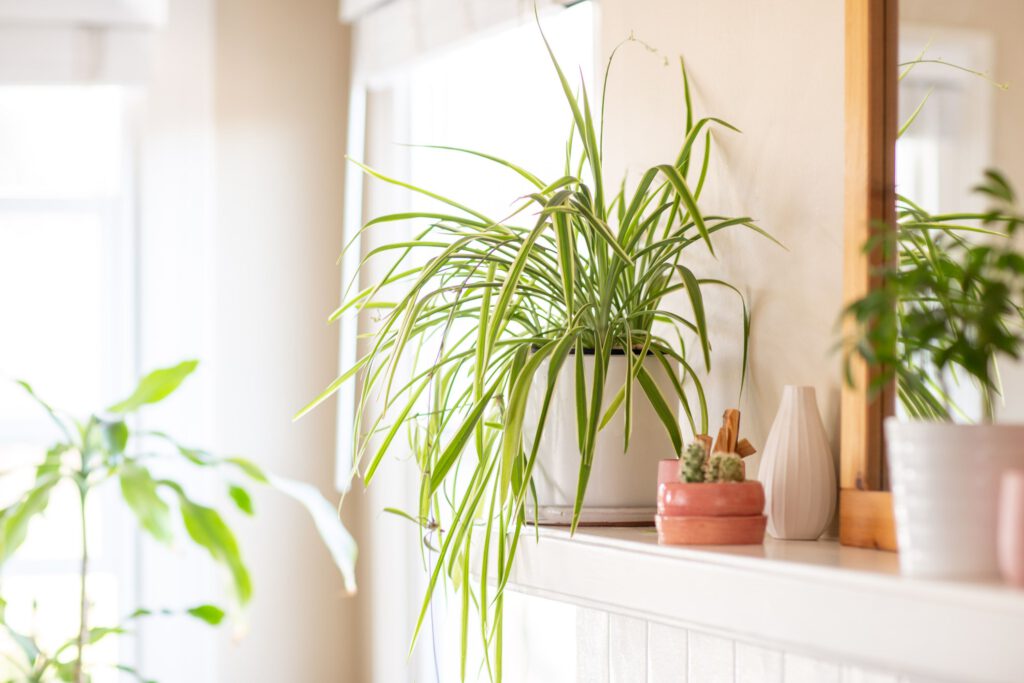 The Spider plant or the Chlorophytum comosum is a highly adaptable houseplant with air purification powers. The name might be off-putting for some people, but don't fret. This plant won't attract spiders to your home! If you're particularly concerned about formaldehyde contamination in your home, getting the Spider Plant should help put your mind at ease. On the NASA test for air-purifiers, the spider plant turned out to be one of the best filters of the potentially cancerous formaldehyde there is.
Most people like putting the Chlorophytum in a hanging basket to highlight its spider-like profile with long and thin leaves. However, it can look just as brilliant in a small pot near a window. Just keep in mind that it requires moderate to bright light. Meanwhile, adjusting the temperature shouldn't be challenging since it's not as picky as other indoor plants. In terms of the watering frequency, once a week is usually enough, even in the summertime. If you care for it right, the spider plant can thrive for up to 50 long years!
Final Thoughts
While there's only so much a single pot can go in terms of air quality, it's still a good idea to make use of air-purifying plants around your home. Each species has a different affinity to certain compounds. That's why it's recommended to mix various plants all over the place. The greener you can make your home, the merrier!